Course Overview
Today, modern teaching principles goes from being lecture based to becoming more student active. At the same time, new forms of education means more collaboration and problem solving. This course is organized as a project, so-called PPBL, Project and Problem Based Learning, ie, learning occurs through a large group project and there are minimal traditional lectures. The focus is on project and problem-based learning, so-called active learning, as opposed to passive and one-way learning methods as traditional lectures are.
Practical application of knowledge is emphasized in this course. The course also uses elements from so-called Flipped Classroom, ie you should read theory and cyllabus in the form of books, compendium, watching videos, etc., on your own before the class session (generally be prepared) so that classroom time can be used for interactive learning and guidance, such as discussions, group work, project work, problem solving, etc. We may also refer to these teaching principles as Education 3.0. This means in this course we move away from traditional lectures to having class time be spent on discussions and projects, using modern digital technology. This requires active participation from you from start to finish! You need to be prepared for class activities reading the textbooks, watch videos, etc. before the class activities starts.
Learning, progress and follow-up during the course are ensured that the project is divided into managble week assignments that defines curriculum, focus, goals, tasks and workload from week to week.
The project counts 60% of the grade, while an individual oral exam (40%) tests basic knowledge obtained through the project and the course as a whole. The total expected workload should be 270 hours.
Video: Introduction to this course in Software Engineering:
Software Engineering Course Overview
Link to Course Plan
Software Engineering
Software Engineering is the profession of the Development and Management of High Quality Software Systems within given Time and Cost frames. We have 6 main parts or phases in Software Engineering: I. Software Planning, II. Software Requirments Analysis, III. Software Design, IV. Software Implementation, V. Software Testing and VI. Software Deployment and Maintenance, see figure below: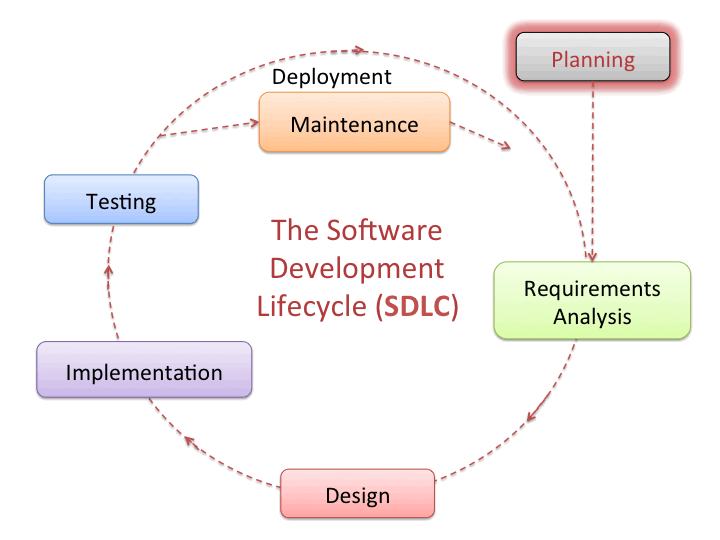 Video: Introduction to Software Engineering:

Do you have Questions, need Help or need to Communicate? - In this course Microsoft Teams will be used for communication, questions, guiadance, assistance, etc. Very often someone else is wondering about the same as you - or perhaps someone else has experienced the same thing and found a solution for the problem? Need help outside normal office hours? Perhaps a fellow student can help you if you ask your questions here? For example, if you have installation problems, etc., a fellow student can usually respond better than the supervisor can (outside scheduled hours, evenings, weekends, etc.). You also learn a lot from helping each other.
Textbooks
The following textbooks will be used in this course:
Additional Textbooks and Resources:
Online Textbooks from O'Reilly For Higher Education (the University has a subscription, so you can use it for free!):
Essentials of Software Engineering (Frank Tsu et al.)
Software Engineering (Saikat Dutt, et al.)
Other Resources:
Tools
These are the main tools we will use in this course:
In addition we will use lots of other tools and software, see the specific topic pages in the course schedule below.
Course Schedule
Course Registration (first time only!) Quiz System
Office Hours: Tuesdays 10:15-14:00 and Fridays 10:15-14:00 @ Room C-139a
Software Engineering Topics - Week by Week (YouTube Videos)
Teaching staff: Hans-Petter Halvorsen (HPH), Olav Dæhli (OD), Nils-Olav Skeie (NOS)